About fashion, while it is really objective, the collective objectiveness would form subjective unspoken rules. Thus, the trend. I have tried to keep up with recent trends, not sweatpants and slipper combo that are adored by many, but presentable ones. However, my style really merged into a cohesive set under the heavy influence of functionality and structural designing. Minimalism was really how I lived, or am living. It seemed more so with Muji, Dior, Jacquemus and Yeezy dominating social feed pages and Instagram blogger stories. This made me think, wasn't everyone Gucci-ing some days ago?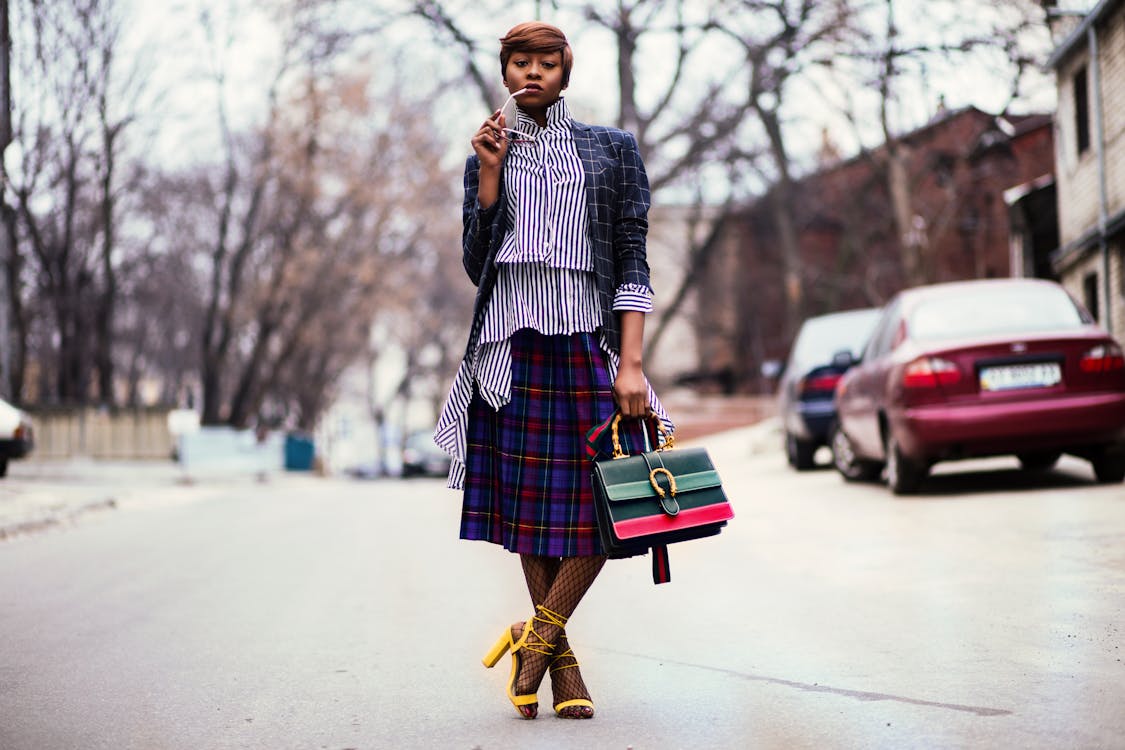 When the model came out with a baby dragon in his arms, I sucked in gallons of air that my lung hurt. Gucci's 2018 Milan show really gave Alessandro Michele a blue checkmark in the fashion game. The surgical operating table was freaky, but the mood of the show would not be right without it. The runway set was cinematically constructed with vintage flairs of Greek-chic, you see religious influences and suburbanization from the 60's fused into one. And guess what, MET put out Heavenly Bodies that probably feasted on Michele's vision. It was really the year of maximalism.
In a long while, I see streets and Instagram flooded with prints and colors that triggered chemical-free acid trips. Honestly, I believe the sense was heightened even more by the revival of the streetwear. 90's trends and Y2K skateboard culture for sure pumped Gucci's gas. I even tried to embrace it, I bought a vintage print scarf and a sunset-yellow tinted shade, which made me a total maximalist.
The colours and fun prints really lightened up monotone suits that's almost the dominating stereotype for chic fashion. Each piece relied on another to be worn or otherwise, they probably would not see sunlight. Alas, mix n matching takes a university degree to master. I truly thought that I could once lead fashion with my Christmas sweaters; but Yeezy and Jacquemus said otherwise. The two houses soon took Gucci's thunder. Simon's collection between the hays brought back the Med central-European lifestyle, the handbags and the newest plate sets open the invitation for a classic cheese and wine platter picnic. What was once familiar was soon loved, and Simon's modern structural design skills that exuberates chicness really elbowed out maximalism.
The reason revealed to me so effortlessly with my recent exchange to France. The country that gave birth to fashion held out the birth certificate and said non, you do not need zees stupide prints. The French really dressed classically, by that I mean you cannot really tell what year their pieces of clothing are fabricated. Colours would remain in the same light frequency range, structure and design showed through layering which leads to living standards display. People's need for functionality of garments really leave little room for multiple types of clothing care, why iron when the dry tumble does the job?
This soon gave me an idea that Michele's work was ready to wear, or at least presented as such. The receiving end simply does not have the luxury, or care, or willingness to care for maximalism. The jewelry, chains and belts are for your cousin's second wedding, to show her you live better than her, not your trips to get kales.
So I went to see how Haute Couture was doing. Amazingly, maximalism really strived. First that Guo Pei seemed to be crazier year by year, one golden boat simply would not do, you now need a twin before wearing one of her pieces. Over in Iris van Herpen, 3-D prints, building materials are incorporated, which was even not comprehensible to me given her Dutch roots. Not to be stereotypical, but to be stereotypical, the country makes espresso with weed combos. Every atelier used embroidery and needle works to weave the couturier's vision, and each garment was artistry.
What does this tell us about modern consumer fashion trends?
I guess the moral of the story is that in modern industrial consumer fashion, the trends for the stereotypical status and identity displaying would always be most confidence boosting. The maximalism and prints come back to add colours in people's life, but they do not replace the foundation of being warm or comfy. Just think about cheetah or python prints, every urban beauty must have one. They use them as an option to say hey, I know how to have fun, I could have fun, but what I can do isn't necessarily what I will do.
At the end of the day, fashion trends have no laws, and at this point there are so many of them that some of your clothing must reflect one. As for me, I parted from blindly pursuing what is IN, the chase would not be organic with my style and certainly is not economical. So style it your way, wear a beige suit with no shirt but all the jewels you can find, then throw on a fur coat and a Versace babushka to contrast your all-black body guards; this is a taste of both minimalism and maximalism – let's welcome to the stage, confusion-lism.
Thank you for your time and hopefully it's been an enjoyable read! 🙂
©Parting Stories